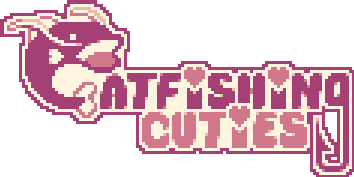 Catfishing Cuties <3
Entry for GB Jam 8

Catfish to fish for some local cuties! Collect them all!

Use different personalities to 'hook' some dates. Some fish can only be caught at specific times of day and locations. Revisit the game over the course of the day to see who you can match with <3

NOTE: The game will autosave to record all of your matches!

CONTROLS:
Z/X keys = A/B buttons
A/S keys = Bait Select
arrow keys = D-Pad
enter key = START button

CREDITS:
Programming & VFX- @polygone_
Art & Concept- @moawko (moawling.itch.io/)
Composer- @ThomasHoeyAudio
Sound FX- @alexbenson (alexbenson.itch.io/)